Irish Prison Registers 1790-1924 Transcription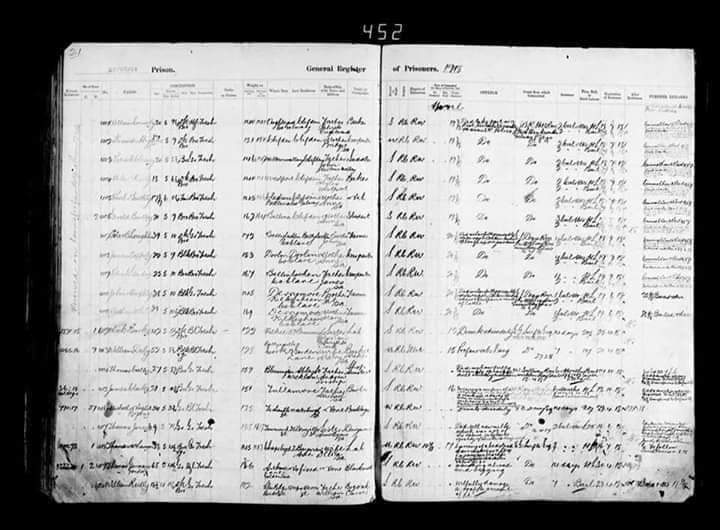 First Name MYLES
Last Name KING
Birth Date –
Name Type Other
Prison MOUNTJOY
County DUBLIN
Date Admitted 19-Mar-1918
Year 1918
Register Title MOUNTJOY PRISON GENERAL REGISTER MALE 1914-1918
Record set Irish Prison Registers 1790-1924
Category Institutions & organisations
Record collection Courts & legal
Collections from Ireland
Name – Myles King, Age – 18, Height – 5'6.5, Hair – Dark brown, Eyes – brown, Complexion – Fresh, Weight on admission, 140, Where born – Westport, Last Residence – Clifden. Father – Myles. Trade or occupation – Baker. Married or Single – Single, Religion – RC, Education – Read and Write, Date of Committal 19.3.18. Offence – Did take part in a riot, unlawful assembly and assault of police. Court from which committed – Can't read but Galway. Not sure what sentence section says, but release date was 18.7.18.
A letter from his O/C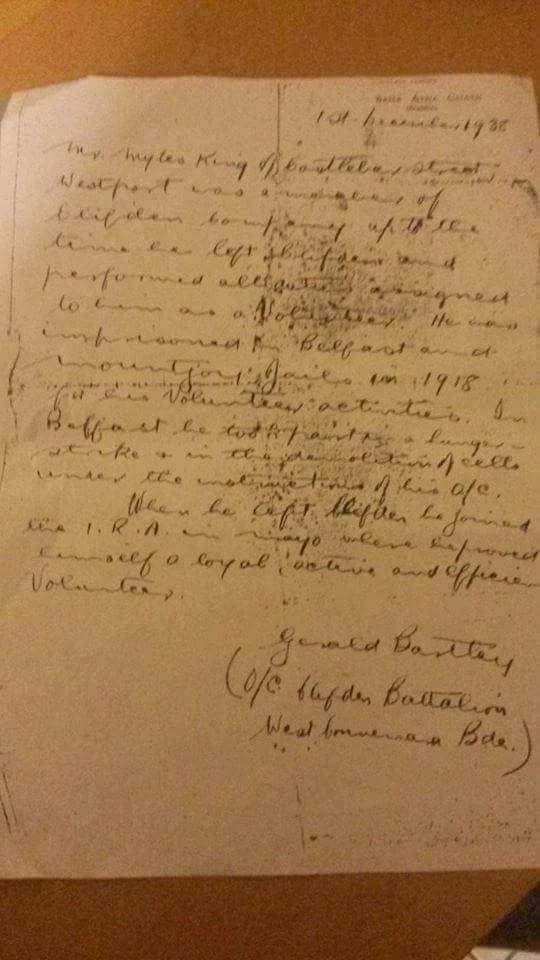 Mr Myles King of Castlebar Street Westport was a volunteer of Clifden Company up to the time he left Clifden and performed all duties assigned to him as a Volunteer. He was imprisoned in Belfast and Mountjoy jails in 1918 for his volunteer activities. In Belfast he took part in a hunger strike and in the demolition of cells under the instructions of his OC.
When he left Clifden he joined the IRA in Mayo where he proved himself a loyal, active and efficient Volunteer.
Gerald Bartley
OC Clifden Battalion West Connemara Brigade.