Click to View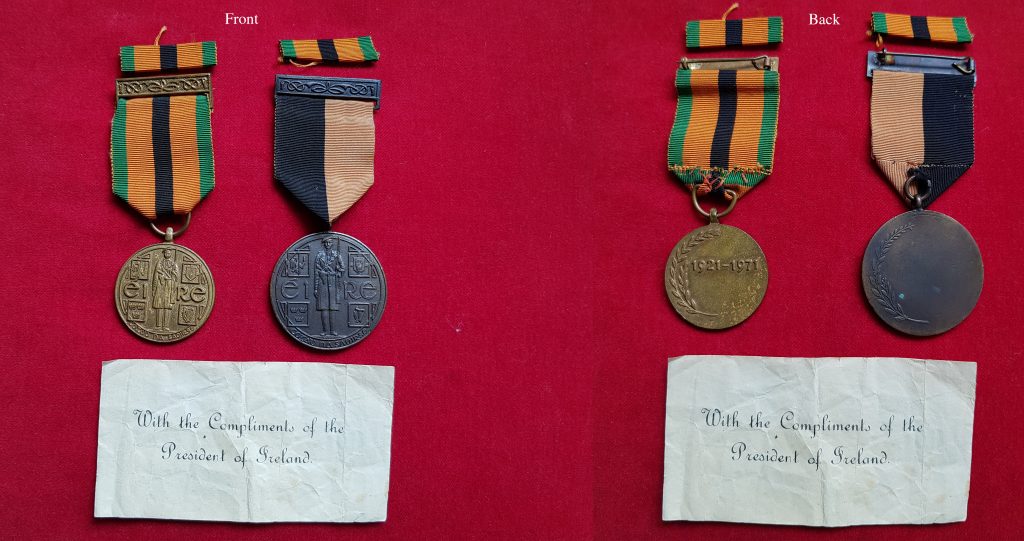 The above medals were issued to a Cumman na mBan member Anne Moran ( later married Hastings) Ardygommon Westport who belonged to the welfare section of the Freedom Fighters in the Aughagower area during the War of Independence. The house occupied by her and her family was what was known at the time as a "Safe House".
Each day was spent, along with their own farm work, baking bread, preparing vegetables and other available foodstuff for the volunteers who every evening at sundown came to the house for rest, sustenance and shelter overnight whilst awaiting orders from their officers.
Houses such as this were known as being in the welfare section and catered for tired and weary volunteers from all other sections. The bedding and food provided was a welcome and necessary part of the survival of the volunteers.
Whilst the volunteers rested their rifles lay stacked at the bottom of the kitchen ready for the next action ordered.
Such houses were blacked out at night with heavy curtains so as not to attract attention. The access roads to these houses were monitored by a number of lookouts to alert the household and volunteers of any nearby or passing Black & Tan patrols so they could escape to safety and protect themselves.
There were many such houses whose occupants provided a vital lifeline for the active service members of the Freedom Fighters.
(Supplied by Irene Reidy daughter of Anne Moran)